The Patron Saint Of Our Parish - St. Anthony of Padua
Doctor of the Church (1195-1231)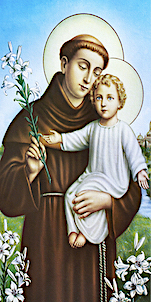 0 Sweet Jesus: what is there sweeter than Thee?
Sweet is Thy memory, sweeter than that of honey or any other object.
Thy very name is a Name of sweetness, a Name of Salvation.
For what does the name Jesus signify, if not Savior?
Therefore good Jesus, for Thy own sake be to us a Jesus.


St. Anthony is among the most popular of all saints. This has less to do with the memory of his spellbinding preaching than with his posthumous career as a miracle-worker. Throughout the centuries Anthony's intercession has been piously sought in matters great and small, with particular homage accorded his knack for locating lost objects. Lost amid this devotion has been much recollection of who St. Anthony was, apart from the fact (important to many of those who most honor his name) that he was Italian. (Actually, Anthony was Portuguese by birth.)

Anthony was born in Lisbon in 1195 and first entered religious life as an Augustinian canon in Coimbra. There one day he had occasion to wait on a group of five visiting Franciscans who were on the way to Morocco. Anthony was greatly impressed by these courageous missionaries, the more so when news came of their martyrdom and when their remains returned by way of his monastery.

At once Anthony was inspired to apply to the Franciscans. He was accepted and was even granted his wish to follow in the footsteps of the martyrs. But no sooner had he arrived in Morocco he became so ill that he was forced to turn around. In Italy he attended the famous Franciscan chapter of 1221, the last one held during the lifetime of St. Francis. It was also the last Chapter to which all Friars were invited and was thus, with three thousand brothers in attendance, a considerable jamboree. Afterward Anthony was assigned to a small hospice for lay brothers at Monte Paolo. It was a lowly assignment, befitting a brother who, up to this time, had shown no remarkable talents.

But soon Anthony's star would shine. When, on an important religious occasion, there was found to be no available preacher, Anthony was asked to extemporise. He proceeded to astonish his audience with the unexpected elegance, conviction, and profound learning of his sermon. Word quickly spread, and Anthony soon received a letter from Francis himself authorising him to preach and to teach theology to the friars.

Eventually Anthony was sent on a preaching mission that covered all of Italy. Thousands flocked to hear his open-air sermons, and his visits had the impact of a spiritual revival. It was said that men gave up gambling and drinking at the sound of his voice. Criminals were reformed. Feuding enemies were reconciled. For these effects, quite apart from the miracles that adorn his legend, Anthony earned his reputation as the "Wonder Worker".

Anthony's sermons integrated a message of spiritual uplift with a bold challenge to the social vices of the day, especially greed and the practice of usury. He attacked the tyranny of the powerful and was unsparing when it came to the failings of the clergy. He volunteered for hazardous mission tours among the Catharist heretics in southern France. So successful were his exhortations to charity that, wherever he preached, he was well known by the title, "Friend of the Poor."


Weary from his exhausting mission, Anthony died on June 13, 1231, at the age of thirty-six. He was buried in Padua, the city where he had spent the last years of his life. It is a measure of his popularity that Anthony's canonisation followed only one year after his death. In 1946 Pope Pius XII declared him a Doctor of the Church.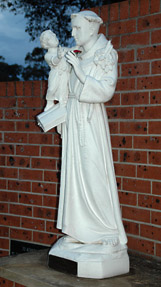 The Statue of St Anthony Of Padua located at St Anthony's at Tahmoor

The Prayer To St Anthony

O Holy Saint Anthony, gentlest of Saints, your love for God and charity for His creatures made you worthy when on earth to possess miraculous powers. Miracles waited on your word, which you were ever ready to speak for those in trouble or anxiety. Encouraged by this thought, we implore you to obtain for us .. (here mention your request). The answer to our prayers may require a miracle; even so, you are the Saint of Miracles. O gentle and loving Saint Anthony, whose heart was ever full of human sympathy, whisper our petitions into the ears of the sweet infant Jesus, who loved to be folded in your arms, and the gratitude of our hearts will be yours. Amen.

Saint Anthony of Padua is invoked in a wide variety of needs but is especially renowned as the "Patron of Lost Objects".