The history of our parish begins as early as 1833 for it is in this year that Father John Joseph Therry makes an entry into his travelling diary of visiting the little settlement of Stonequarry (Picton). He describes his travels, alone and on horseback, in order to baptize, marry and tend to the spiritual needs of his Catholic flock. We can only imagine the remarkable feat made by Therry in covering such vast distances through thick bush, dotted with deadly reptiles and insects, bushrangers and the Aborigines. "There he exercised his remarkable pastoral gifts, the itinerant priest going wherever, and doing whatever, he thought necessary for religion" (Patrick O'Farrell, 1968).

Father Therry, along with fellow priest Phillip Connolly, arrived in Sydney Town in 1820. They were not the first priests to have come, however. Three priests had been sent as convicts for their part in the 1798 Irish Uprising, yet they did not formally minister and later returned to Ireland. Father Jeremiah O'Flynn, who arrived in 1817 had been given no colonial authority to enter Australia and hence was deported back to England by Governor Macquarie in 1818. Therefore, Father Therry and Father Connolly had their work cut out for them, covering vast regions of the growing colony and sustaining the faith of Catholic convicts, settlers and the Irish poor in the slums of Sydney.

With the arrival of Dr John Bede Polding (later Archbishop Polding) to Sydney in 1835, John Therry was sent off to the district of Campbelltown and Connolly directed to Hobart Town.

As numbers in the clergy grew, either through immigration or ordination, priests could now reside permanently at Appin. Picton and other local settlements now came under this authority, yet it was Menangle that became the principal centre. From 1841 Father Bede Sumner (the first ordained priest in Australia) and Father John Goold (later Bishop of Melbourne) attended to the spiritual needs of the district. The first recorded Baptism in Picton is that of Susan Cullen, born 2 October, 1841, yet we know through Therry's diaries that he had baptised Catholics in the area from as early as 1833.

St Anthony's Catholic Church - Tahmoor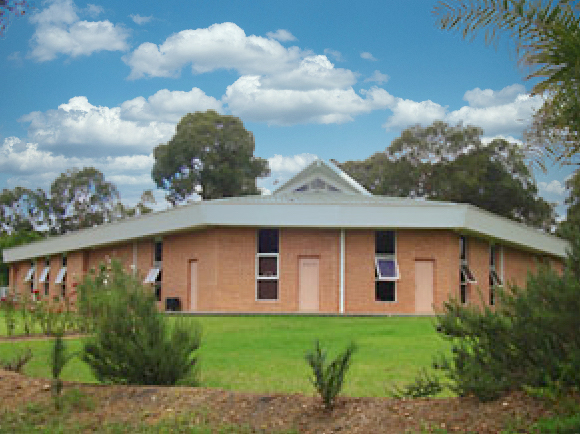 Originally known as Myrtle Creek and Bargo West, growth in this settlement did not occur until the building of the Picton – Mittagong railway.

In February of 1963 a newly erected Church 'Hall' was opened on the corner of York and Emmett Streets, Tahmoor. This church was blessed and had the first Mass celebrated by Rev. Father T. Scanlon. Local volunteer men who gave up their Saturdays to help Tahmoor have its own church carried out the building.

The churches of St Anthony of Padua (Picton), St Therese of the Little Flower (Bargo), and Queen of the Rosary (Thirlmere) and Tahmoor Catholic Church were amalgamated to form the new St Anthony's of Padua - Tahmoor in 1995. The 4ha site was donated by Alma McGowan, widow of Jack McGowan. The foundation stones of all three former churches, plus an acknowledgment to the McGowan benefactors, are near the current statue of St Anthony of Padua.

Sunday 19 February 2017 saw the twentieth anniversary of St Anthony's Church. A Mass was held to mark the event and was co-concelebrated by Rev Peter Ingham, Bishop of Wollongong, Father Chris Roberts who was Parish Priest when the church was opened, and Father John Ho, the current Parish Priest. A parish BBQ was held after the Mass.

The Opening of the St Anthony's Parish Administration Centre took place on Saturday 23 February, 2019. The Centre was opened by The Most Reverend Bishop Brian Mascord - Bishop of Wollongong.

Sheil Memorial Church - Picton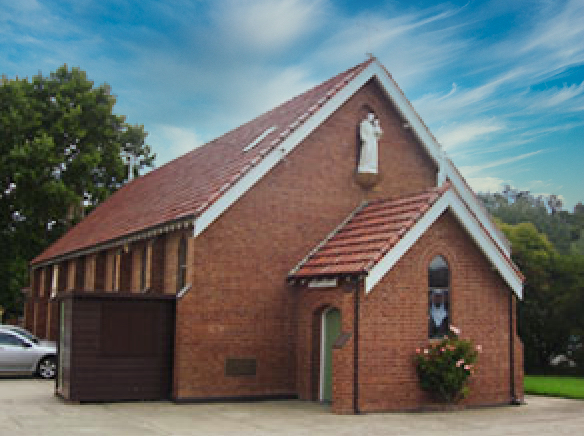 In 1845 the first Catholic Church was built in Picton. Dedicated to Saint Patrick, it was situated on land donated by Major Anthill that extended from the current Josephite Convent across to the National Bank and bordered by Stonequarry Creek. Built by local identity John Bollard, it was opened in 1847 and described as a "neat little chapel" with a stone facade. It served the Catholic community of the town for 100 years. However, by 1947 it was deemed too small and was demolished to make way for a new school.

Although St Patrick's church remained standing, a decision was made to build a second larger church near the former. This second church was of weatherboard construction and held services up until 1901. It was this second church that Blessed Mother Mary McKillop visited in early 1881. From 1902 it was used as a church hall and school building until its demolition in 2007 to make way for new classrooms.

The third church built on the site is the one that remains today. With a donation of 1500 pounds ($3000), Mrs. Frances Shiel of Maldon initiated the construction of this church in 1900. In addition, a bronze tabernacle, stained glass window and large crucifix were also gifted. It is built in a simple Gothic style of red brick, with Gothic arched windows, and choir loft in the northern end. On September 1st, 1901, the church was officially opened by His Eminence Cardinal Moran and dedicated to Saint Anthony of Padua. Mass continues to be held weekly for both the parish and school community.

St Patrick's Church - Menangle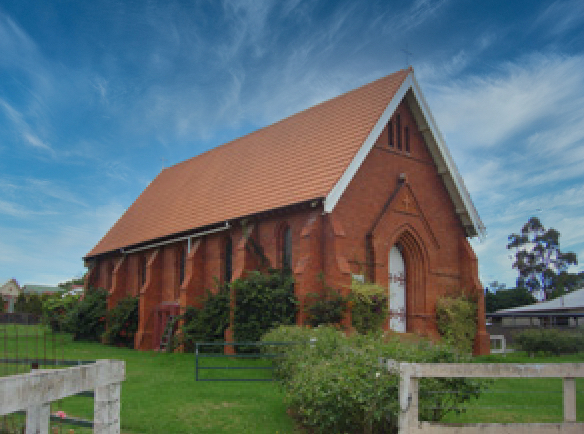 In 1806, a vast land grant was awarded to a Walter Davidson who named his property "Manangle". This grant was later incorporated into the larger Macarthur Estate and became a private village to house the workers from the Camden Park properties. In 1887 a Catholic priest came to reside in Menangle, and in 1895 the current St Patrick's building was erected. Built to a design by R. T. Dennehy of Sydney, it is now listed with the NSW Heritage Branch as a socially significant building. St Patrick's conducts Mass on the first Sunday of every month at 6pm.

Church Of The Sacred Heart - Douglas Park

Originally called Hoare Town, Douglas Park was one of two vast land grants approved south of Camden Park. Dr Henry Grattam Douglass, a close friend of Governor Brisbane, owned the Hoare Town land grant. The other grant, owned by Jean Baptiste de Arrietta, was known as Spaniard's Hill which, in 1860, had a sizeable Catholic community and included one of the first rural Catholic schools. Dr. Douglass worked tirelessly for the poor and ex-convicts and was instrumental in helping establish Sydney University.

The Douglas Park Catholic Church began its existence as the town's community hall. Built in 1937, it was consecrated as a church two years later. By 1971 the parish priest, Father Scanlon, came under increasing demand to provide pastoral care for such a large parish. As a result, the clergy from the local St Mary's Towers provided assistance to the Catholic townspeople in their spiritual needs. Consequently, in 1977, then Bishop William Murray merged the churches of Appin, Wilton, Douglas Park and Menangle into one parish and asked the St Mary's clergy to administer to these communities. In 1987 this decision was reversed. Douglas Park now exists within the Parish of St Anthony of Padua.

Church of St Therese of the Little Flower - Bargo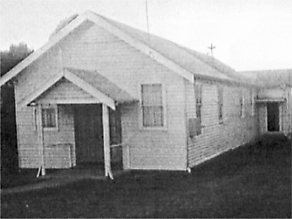 Originally called Barago by the local Tharawal Aborigines, this area of heavily forested bush was referred to as Great Barago by Governor Macquarie in 1810. With deep gullies and well-hidden caves, it proved good hiding ground for bushrangers. Here, early settlers saw their first lyrebirds, koalas and wombats.

It wasn't until the 1920's that the settlement was considered large enough to have its own church. Father Teehan made plans to have a church built and by 1937 it was completed. It consisted of a weatherboard building erected by local volunteers who had recycled the materials from a disused hall located at one of the nearby dams. Although the church was later extended, it closed in 1995 when it amalgamated with St Anthony's of Padua, Tahmoor. It was listed with a local real estate agent for $95,000 on 1200 sq. m. and "suitable for conversion to a residence or for use as a hall".

Queen of the Rosary Church - Thirlmere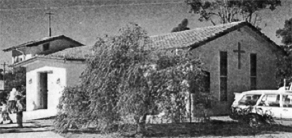 Originally called Picton Lakes then Redbank Creek, Thirlmere soon became popular for the fresh water lakes surrounding it. The railway and nearby siding arrived in 1883, yet it wasn't until 1954 that Thirlmere was gifted with its own church on August 15th. Prior to 1954, Mass was held in the community hall. "On a day of glorious sunshine, His Lordship Thomas McCabe, Bishop of Wollongong, blessed and opened the new church titled "Queen of the Rosary". Sufficient funds were raised to build a new church of brick and concrete with a tiled roof and of 'modern architectural design" (Picton Post,18/04/1954).

According to Bishop McCabe, this church was the first new building in the newly created Diocese of Wollongong. Although the church was extended in 1987, it too was amalgamated with St Anthony's of Padua - Tahmoor in 1995. The building is now a secular community building situated behind Thirlmere Public School.

Sisters of St Joseph of the Sacred Heart Convent - Picton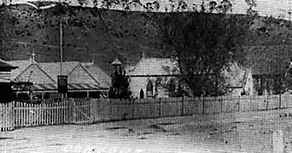 The original convent (left) and St Patrick's Church (right) behind tree at Picton

In 1880, Mother Mary McKillop was invited by Bishops Vaughan and Torreggiani to assist them in setting up Catholic schools in rural areas. One hundred years ago Sisters Veronica, Stephanie and Columba arrived in Picton and welcomed 30 pupils. It was here that the Sisters of St Joseph of the Sacred Heart established their third convent in NSW.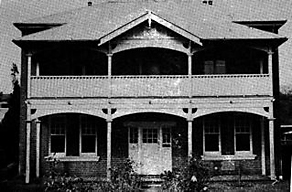 The Second Convent

The first convent was built of recycled Canadian redwood and served the community until 1911. As student numbers increased and a demand for more sisters needed a second convent was then built. On 7th June, 1911, His Eminence Cardinal Moran laid the foundation stone of the two-storey convent. This convent served for 64 years until 1975 when it became increasingly damaged by rising damp and was deemed necessary to demolish. Luckily, the bricks of this convent were salvaged for the building of the current convent that stands today abutting the school. Bishop William Murray opened this third convent building on 11 July 1976.
---
Priests Of The Parish

Fr. John Therry

1833-38

Fr. A.W Petre

1885

Fr. J. O'Reilly

1928

Fr. John Grant

1843-49

Fr. D.A. Harnett

1895

Fr. Teehan

1929-31

Fr. Ruggerio

1857-60

Fr. Dunn

1895

Fr. Corridan

1935-40

Fr. John Mahan

1859-60

Fr. Hanrahan

1901

Fr. Bradstreet

1940-42

Fr. John Roche

1860

Fr. Baugh

1902-04

Fr. P. J. Reeve

1942-48

Fr. J. Keating

1862-65

Fr. Gesson

1903

Fr. Fahey

1948-56

Fr. J. Magennis

1866-68

Fr. Corbett

1903-10

Fr. T. Scanlon

1956-68

Dean O'Connell

1870-73

Fr. Woulffe

1911

Fr. Ekerick

1968-72

Fr. G. Dillon

1874

Fr. Nulty

1912

Fr. Rheinberger

1972-83

Fr. P. Newman

1879-81

Fr. Morris

1914

Fr. Hazlitt

1984-88

Dean Hanley

1880

Fr. F. Byrne

1914

Fr. C. Roberts

1988-03

Fr. P. Hewitt

1882

Fr. McHugh

1918-19

Fr. B. Gordon

2003-07

Fr. J. Sheridan

1882-84

Fr. Fitzpatrick

1927-28

Fr. John Ho

2007-17

Fr. Mark De Battista 2017-2018

Fr. Fr Peter Tien 2018 -
Written by Alison Giles with the assistance of Mrs. Helen Hangar and Sister Kevin Griffith