---
If you have taken images at Church Functions that you would like included on the Gallery, please send them to fbugeja@ozemail.com.au
Images should be unedited images (jpg) from your camera. Please include a commentary for your images.
---
The Mackrill Family with The Most Reverend Bishop Brian Mascord (Bishop of Wollongong)
The Mackrill Family with The Most Reverend Bishop Brian Mascord (Bishop of Wollongong) at the Diocesan Family Mass at Saint Francis Xavier Cathedral in Wollongong
---
World Day Of Prayer - Friday 4 March

St Anthony's Parish held The World Day of Prayer on Friday 4 March. It was a chance to gather with others from different Christian faiths in the local area. The weather during that week was horrendous and our service almost in doubt due to road closures and torrential rain.
Prior to the event, invitations/reminders of the day were sent to all churches, Bible groups and Christian Groups within the Wollondilly area. Posters were also sent so that these could be displayed and distributed within their own communities.
We started the service with "Trumpet Voluntary" played by our organist. We mostly followed the direction of the Booklet supplied. We then did the offical opening, welcome and greeting. Just before opening prayer we chose to include "God Save the Queen". We asked people to stand and join in if they wished.
Our first Song of Praise was "To God Be the Glory". After the Bible Reading, we all read a poem "A God who Gives" by Julian of Norwich, a thirteenth century English Woman Mystic.
Due to the conflict in Ukraine we invited everyone to say together a special prayer for peace. We also included a special prayer for all people and communities impacted and affected by the floods throughout Australia.
Instead of a speaker we asked for volunteers, particularly anyone from England, Wales or Ireland to share their experiences with challenges/differences fitting in with their faith, or their experiences migrating here to Australia.
For the 2022 World of Prayer Project we showed the short video from The Bible Society Project In Northern Ireland called "Bibles for Bubs Project".
We then invited everyone to stay and enjoy a morning tea. In keeping with the theme we decided to do traditional English tea, with flavours from England, Wales and Ireland. Scones with jam and cream, finger sandwiches and biscuits were all enjoyed. The room was decorated with traditional memorablia. Flowers and flags from the three countries were placed on the tables which were decorated in the colours of the three flags.
Images & Commentary - Jane Galvin (WDP Co-Ordinator - Saint Anthony's Parish)
---
Nativity Scene 2021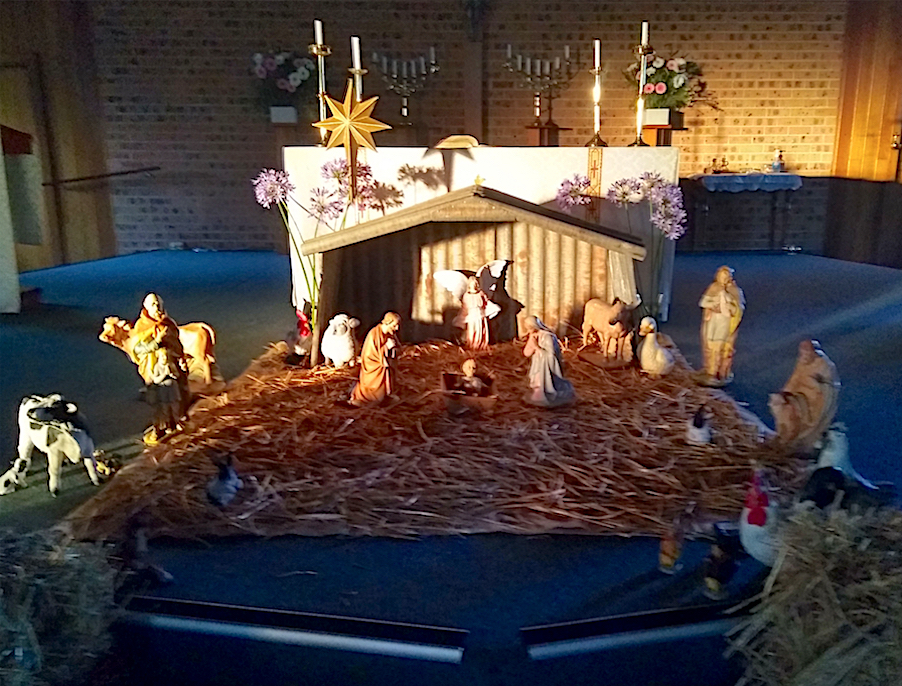 Image: Judy
---