ACCESSING THIS PAGE
This page can be accessed from any page of the website by selecting COVID19 Update from the About drop-down menu, the first menu item in the menu bar located at the top of each page.
---
COVID19 PARISH UPDATES - 24 FEBRUARY 2022
---
As from 24 February, the following protocols will apply:
It is no longer mandatory to wear a face mask in Church.
COVID-19 QR check-ins / check-outs are no longer required.
Social distancing is no longer required.
If unable to attend Mass, it can be viewed on TV or online, or by other prayerful means.
Please only attend Mass if you are well.
Please leave the kneeler down when leaving Mass, to allow for easy cleaning.
Collections are still not being taken up. Please place offerings in the boxes mounted on the wall or giving can be done by direct debit. Contact the office for details.
Holy water fonts are still not to be used.
Please do not touch any statutes or icons.
The Sign of Peace is still not by handshaking.
Holy Communion will only be given into the hand.
Reconciliation is on Saturdays between 5.00pm—5.30pm.
Baptisms by appointment only, either on Saturday or Sunday.
You are encouraged to have the required COVID vaccinations (including booster shots).
---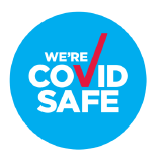 ---
Mass can be seen on Sunday morning at 6.00am on Channel 10. This Mass is produced by the Diocese of Wollongong.
Click here for further details
---
RESOURCES FOR DEALING WITH COVID LOCKDOWN
The following resources Managing Lockdown Fatigue & Managing COVID Fatigue are available for download and provide valuable information for dealing with the current COVID lockdown.
Click to download
---
Electronic Parish Planned Giving
Given that all non-essential travel has been cancelled, some parishioners who support our parish planned giving envelope program have asked how they can continue to financially support the parish. We respectfully encourage all parishioners to join our electronic parish planned giving program to help us ensure that we limit the financial pressure this current situation will impose on our parish.
Importantly, we are mindful that some of our parishioners will sadly be experiencing a change in their financial circumstances. Please contact the Parish Office (4683 2230 or picton@dow.org.au) if you need to decrease/discontinue your planned giving contribution, but mainly to let us know how we can support you.
If you would like to commence giving by direct debit or via credit card, new forms are available for you to complete. They are available in the racks in the foyer of the church, or they can be emailed to you.
Clergy - First Collection

Parish - Second Collection

BSB:

066 711

BSB:

066 711

Account:

002196

Account:

001783

Account Name:

Picton Presbytery

Account Name:

Picton Parish

Reference:

Full Family Name or Envelope Number

Reference:

Full Family Name or Envelope Number
DIRECT DEPOSITS: Please ensure that you use your name or Planned Giving envelope number as a reference, so monies given can be recorded against your name.
Some parishioners are using COVID19 as a reference which does not allow for proper recording of monies given.
---
Online Masses
During this period of time where Masses in the Diocese of Wollongong are suspended, it is important to know that you have not been abandoned by the Church. Members of the faithful are urged to keep holy the Lord's Day by making a Prayer of Spiritual Communion, a well-established devotional practice of uniting one's self in prayer with Christ's sacrifice when circumstances prevent one from receiving Holy Communion.
Prayer of Spiritual Communion
My Jesus, I believe that you are present in the Most Holy Sacrament.
I love you above all things and I desire to receive you in my soul.
Since I cannot at this moment receive you sacramentally, come at least spiritually into my heart.
I embrace you as if you were already there and unite myself wholly to you.
Never permit me to be separated from you.
Amen.

There is a link on the Home Page of the Parish Website that goes to Diocese of Wollongong Website showing what Masses are on live. Alternatively, simply click here.