---
Weekend 14 - 15 September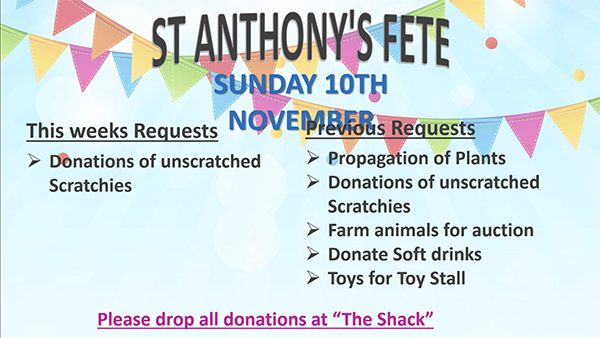 The scratchie tree was a huge hit last year with over $300 worth of scratchies on it. So if you could purchase a scratchie or two while doing your groceries and pop it into the box (unscratched) over the next few weeks it would be greatly appreciated.
We will keep you updated as to how much is being raised week by week.
---
Weekend 7 - 8 September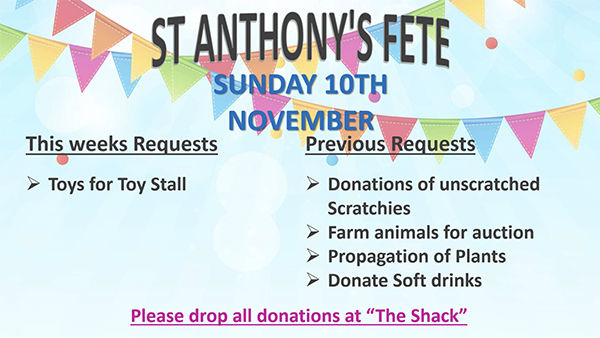 This week we would like to ask for all children's toys!
If you have any items that you feel would be good for the Toy Stall, please feel free to drop it off at The Shack from now on until November 4.
Please only leave items that are in a good, clean, saleable condition and have all their parts.
Use this as a good excuse to get rid of the toys your kids or grandkids have grown out of that are just cluttering up your house.
---
Weekend 31 August – 1 September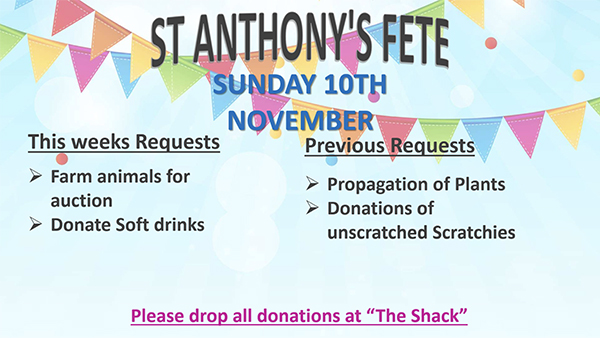 Should you know of anyone who could donate farm animals that could be auctioned off on Fete Day, please speak to one of the Fete Committee members.
We got a great response to our request for plant cuttings and pots. Gay Mason now has 200 little plants to pour love into for the next 10 weeks.
We would love your help with donating any and all cans of soft drinks for the day. These can be dropped into "The Shack" at any time from now until fete day.
---
Weekend 24 - 25 August
I have been asked by this year's fete committee to let you know about all the special items/requirements that the fete needs each week in preparation for this years fete.
This week I am here to let you know that the fete is going to be on Sunday 10th November, which is only 11 weeks away!!
As with previous years it is all about parish participation and very much community based, as this is the fundamental cornerstone on which our parish is built.
We are also doing the Scratchie Tree again this year as we have had some big winners the last 2 years, so we would appreciate any and all unscratched Scratchie donations. You can either drop them into the box outside or hand to one of the fete committee members.
---